1. Dog Food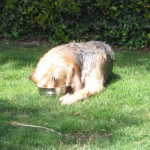 Find good quality food that our dog loves. This sounds like a simple idea, unless you have a picky eater, like our Blue Fairy Mother Starr. She was 3 years old when we got her and was just not food motivated. We went thru months of trying all kinds of dry dog foods from healthy/holistic/expensive to inexpensive/grocery store brands. The only thing we did not try was raw food diet. We were successful with Solid Gold's Barking at the Moon and Wolf King Puppy Food (during Starr's pregnancy).
After weaning the puppies we made a change to Wellness Core Original. It was a big hit for a long time not only with Starr, but also with Mamba and Leeloo when it they started eating adult dog food. However, Mamba got bored with it after her pregnancy. So we switched again. We chose Blue Buffalo Wilderness Salmon Recipe. We like the contents: deboned salmon is the first ingredient, it is high protein and grain free and most of all our dogs love it. In addition to dry dog food, the dogs get small yummy topping: cooked chicken/meat leftovers or canned dog food. We use variety of canned food to keep it interesting.
Here are some useful web sites:
Blue Buffalo Wilderness for Dogs
Wellness Pet Food
Solid Gold Dog Food
Feeding puppies is a different challenge. Large breed puppies require lower calcium (1%-1.5%; no more then 2.5%) and calorie intake than small breed puppies or the adults. They also require high protein content (22+%). This ensures optimal growth and bone development. In their 1st year, puppies need to consume large amounts of food, so it is very important that they like it. We experimented with a variety of large breed puppy foods: Solid Gold Wolf King, Wellness Complete Super5Mix Large Breed Puppy Health and Taste of the Wild Sierra Mountain with Roasted Lamb. Although Taste of the Wild is formulated for all stages of life, we picked Sierra Mountain formula for Ozzy because of its low calcium content.
When Ozzy turned 6 months old, we made another change. This time we introduced Blue Buffalo Large Breed Puppy Chicken & Brown Rice Recipe. The main reason was the portion size. Ozzy seemed to be challenged finishing his 6 cups of food and Blue formula called for only 4-5 cups a day. Plus, he ate it dry, no topping.. Bonus! He still likes the puppy food and sometimes waits for Bella's leftovers, mainly around her bowl. Bella has great apetite and cannot wait for the meal time. She simply LOVES her food.. and Ozzy's and Leeloo's and Mamba's.. and ours too 😉 We are very happy with Blue Buffalo dog food for puppies and adults.
More useful links:
Diet Guidelines For Large Breed Puppies
Blue Buffalo for Puppies
Taste of The Wild Pet Food
One more note: if you plan to change your dog's food (puppy or adult), start gradually mixing the new dog food with the old and make the transition over 3-5 day period. It will make the switch easier on his/her system. Otherwise the bowels may get upset and you really don't want that to happen. We use yogurt and pumpkin to stabilize upset tummies: 1tbsp canned pumpkin or yogurt mixed with the food. Yogurt is a great treat too. Our dogs love it any time of the day 🙂
We like stainless steel bowls for food and water. Easy to keep clean and

unbreakable!
For chewies, we use natural cow ears and bully sticks. They are long lasting and the dogs (especially the puppies) will not be able to swallow it too quickly. If you like raw hides, we prefer compressed bones.
We also give our dogs raw bones to keep thier teeth clean. It is an excellent treat and keeps dogs busy for hours.

Back to the top
2. Vitamins & Minerals
Last winter, our girls got fat. Not out of control fat.. Just a little chunky – as Mike likes to say.  We reduced their potion size as part of a weight loss program. As a result, we decided to supplement with vitamins and minerals.
We used Solid Gold Seameal (Solid Gold Health Supplements). It contains 60 trace minerals, 12 vitamins, 22 amino acids, digestive enzymes, and flaxseed meal. We fed it with breakfast, half the dosage recommended by the manufacturer because Wellness Core dry food already had good nutritional content.
Vitamin supplements are also a great idea if your dog is a picky eater and does not get the recommended daily feeding portion.

Back to the top
3. Omega 3 Essential Fatty Acids
We believe in Omega 3 Fatty Acids for humans and animals. They support heart, vision and joint health as well as provide nutrients for proper immune functions and nourish skin & coat. Our girls get 1tbsp of DHA/EPA-rich Omega 3s with dinner every day (1200mg DHA/1600mg EPA = 3000mg Omega 3s). We simply mix it into their food. Omega 3 caps are an option but a bit trickier to feed to your dog.
My preference is not to buy Omega 3 supplements in a Pet Store. It is usually expensive: you will pay top $$ for the label and quantity/quality will be much
lower than what you can get for the same price in a human health food store or farmers market (Henry's or Trader Joe's in CA). In addition, you will be able to read the ingredients. Most pet supplements don't have contents listed.
When buying Omega 3s, I always look for the highest DHA/EPA content per serving. Liquid supplements have higher concentration than gel caps and can be mixed with dog food.

Back to the top
4. Coconut Oil
Our dogs LOVE coconut oil! They eat it from the spoon and enjoy having it mixed in with their meal. I usually add 1-2 tbsp to their breakfast, every other day. Benefits are countless, but we got to watch these calories!
5. Joint Health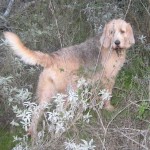 Supplementing dog food with glucosamine may be a good idea especially for older dogs with hip and joint issues. However, most holistic and high quality dry dog foods already have it as an ingredient.
Glucosamine supplements can be found in any pet or feed store – dog or horse sections. Ask store assistant for recommendation.  Horse supplements are generally less expensive.   Human grade products are an option. They may be more expensive and in caps/tabs form that your dog may not like but the quality is guaranteed.